Agnes Emma (Shaver) Hunt/Hourigan/Allen

Agnes Emma Shaver was the oldest child of Francis Emery & Lillian M. (Boughton) Shaver. She was born on October 1, 1891 in Charlotte, Eaton County, Michigan, USA. After her mother, Lillian, died on April 3, 1895, her father remarried (around 1903) and Agnes moved (with her family) to Orange County, California.
On October 1, 1910 (age 19), she married her step-brother, Harry Edward Hunt, son of Henry H. Hunt & Emma L. (Bunting) Hunt/Shaver. He worked as a hotel chef at the time of their marriage. He passed away on December 17, 1911.
On June 28, 1913 (age 21), she married William Randolph Hourigan, son of Irish immigrants Patrick J. & Elizabeth (Hogan) Hourigan.
Agnes was a housewife and registered republican in Orange County, California.

After the death of her husband, William, in 1955, she remarried Alvin E. Allen on February 17, 1962 in Orange County, California at the age of 70.

Agnes passed away on April 18, 1982, at the age of 90, in Riverside, California.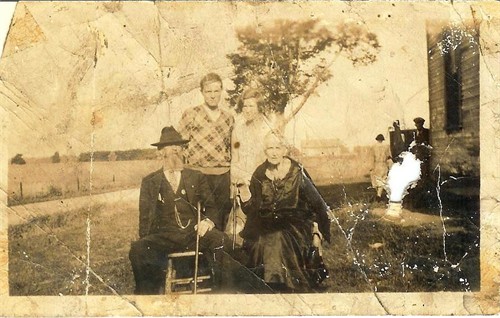 Four Generational Photograph. July 5, 1930 in Nevada Mills, Steuben County, Indiana.
In front: Francis E. Shaver and his mother, Agnes Colista (Palmer) Shaver.
In back: Harry(?) Hourigan and his mother, Agnes Emma (Shaver) Hourigan.
Together, William & Agnes had four known children:


Harry Edmund Hourigan [1911 - 1983]
Richard Randolph Hourigan [1914 - 2008]
Winifred Katherine (Hourigan) Trueblood [1917 - 1969]
William A. Hourigan [1926 - 1944]