Lillian M. (Boughton) Shaver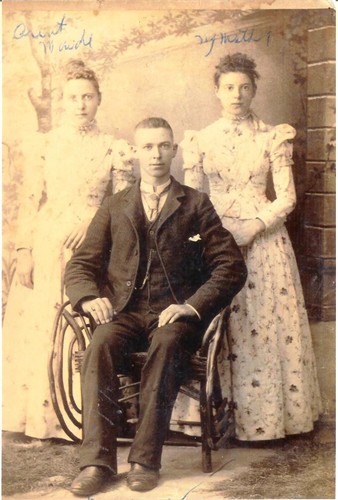 Lillian M. Boughton (right) and her siblings, Maude (Boughton) Pursey and William A. Boughton.

Lillian M. Boughton was the daughter of Miles & Emma Jane (Baker) Boughton. She was born on May 16, 1874 in Somerset County, Pennsylvania, USA.

On March 26, 1890 in Hastings, Barry County, Michigan, USA, she married Francis Emery Shaver. Francis was the oldest son of Joseph Watson & Agnes Colista (Palmer) Shaver.

Lillian died on April 3, 1895 in Hastings, leaving Francis a widow.
Together, Lillian & Francis had two known children:

Agnes Emma (Shaver) Hunt/Hourigan/Allen [1891 - 1982]
Maude Bell (Shaver) Forrester/Wren [1893 - 1992]