Clifford Joseph Shaver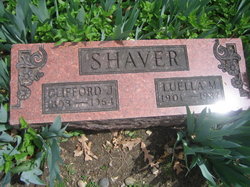 Headstone at Maple Hill Cemetery.

Clifford Joseph Shaver was the youngest son, and child, of Joseph Watson & Agnes Colista (Palmer) Shaver. He was born on January 13, 1893 in Chester Township, Eaton County, Michigan, USA.

On June 5, 1917, he registered in the WWI draft. On the draft card he listed that he was a single, self-employed farmer who suffered from poor eyesight and a weak heart.

He married Luella M. Randall, daughter of Walter E. & Clara E. (Bottomley) Randall, on February 14, 1918 in Chester Township. Their home/farm appears to have been located next to her father's farm, per the 1920 U.S. Census records.
The 1930 U.S. Census record lists their address as 211 Warren, Charlotte, Eaton County.
Clifford passed away on October 6, 1964. Social Security Death records indicate that his SSN was #376-10-2403 (Issued in MI). He was buried at Maple Hill Cemetery in Charlotte (Plot J-29), where his wife was also interned after her death in 1987.

Together, Clifford and Luella had 3 known child:
Doris Clara (Shaver) Boughton [1919 - 1985]

Frances E. (Shaver) Ziegs/Bigham [1924 - 2008]