Geraline Lovejoy (Shaver) Whitinger/Martenies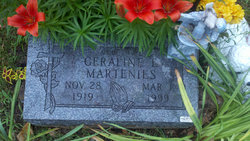 Headstone at Maple Hill Cemetery.

Geraline Lovejoy Shaver was the daughter of Clinton Deland & Jessie Goldie (VanOrman) Shaver. She was born on November 28, 1919 in Charlotte, Eaton County, Michigan, USA.
She married George Edgar Whitinger, Jr., son of George Edgar & Isabel C. (Cochran) Whitinger sometime around 1935. They divorced on sometime around 1950.

George remarried to Cora Luella Guy in 1952 and had two children by her (Mike & Cora Lee).

Geraline remarried to Benjamin Franklin Martenies sometime after her divorce from George.

She was a member of the First Baptist Church of Charlotte, charter member of the Fraternal Order of Eagles, Harrison Auxiliary Aerie #3541, in Harrison; and a lifetime member of the VFW Charlotte Post #2406 Ladies Auxiliary.
She passed away on March 1, 1999 at the age of 79 in Michigan.

Geraline & George had six known children:
Melvin Arnold Whitinger [1939 - 1962]
Wanda Louise (Whitinger) Cook

Mary Ann (Whitinger) Wilkinson

George Edgar Whitinger, II

Joyce Eileen (Whitinger) Schultz

Larry Arthur Whitinger [1949 - 1949]
Geraline & Benjamin had three known children:
Allen Dale Martenies

David Lynn Martenies

Lorraine Sue (Martenies) Burchett