Lloyd Willard Shaver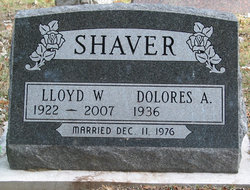 Above: Headstone of Lloyd & Dolores Shaver at Gresham Cemetery.

Lloyd Willard Shaver was the son of Willard Ervin & Minnie Mabel (Ranney) Shaver. He was born on August 13, 1922 in Onondaga, Ingham County, Michigan, USA.

On the 1930 and 1940 U.S. Census records, he is listed as living with his parents in Chester Township, Eaton County, Michigan, USA.
On December 2, 1942, in Kalamazoo County, he enlisted (and then served) in the U.S. Army for WWII.

After the war, he married Laura Lee Midget, daughter of Walter L. & Laurabell (Klosterhoff) Midget. Sometime after their marriage, they divorced.
On December 11, 1976, Lloyd remarried a Dolores Ann "Dee" Kennedy, daughter of Harry & Dorothy Kennedy.
During his life, Lloyd was a salesperson for Moormans Feeds, a truck driver for Minor Walton Bean, and after retirement worked at Yates Hardware. He loved to farm while whistling away on his tractor, was a Detroit Tigers fan and enjoyed country western music. Mr. Shavers favorite games included; Euchre, golf, Tonk 31 and Bingo.
Lloyd passed away on Thursday, January 11, 2007 in Charlotte, Eaton County, Michigan. Funeral services were held on Monday, January 15, 2007 at Pray Funeral Home in Charlotte with Pastor Dino Lamphere officiating. Interment followed at Gresham Cemetery in Vermontville, Eaton County.
Lloyd & Laura had five known child:
Kathleen A. (Shaver) Gusey [1947 - living]
Vicki Lynn (Shaver) Keefer/Stiver [1950 - 2011]
Sharon (Shaver) Locke [living]
Janet R. (Shaver) Rhoden [1953 - living]
Laurel (Shaver) Wallace [1954 - living]