Minnie Mabel (Ranney) Miller/Shaver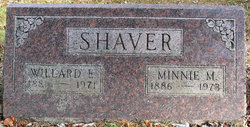 Headstone of Willard & Minnie Shaver.



Minnie Mabel Ranney was the daughter of Romain D. & Mary E. (Howe) Ranney. She was born on November 3, 1886 in Michigan, USA.

On November 3, 1904, in Onondaga, Ingham County, Michigan, she married Arthur L. Miller, son of Henry J. & Clara (Harper) Miller.

On September 27, 1917, she married her former brother-in-law, Willard Ervin Shaver in Eaton County. Willard was the son of Joseph Watson & Agnes Colista (Palmer) Shaver. His first wife, Della J. Miller, was Arthur's younger sister.
Minnie died in September 1973 (age 87) and was buried next to Willard at Gresham Cemetery in Vermontville, Eaton County, Michigan.

Together, Minnie & Arthur had four known children:

Merlin Richard Miller [1906 - ?]
Gladys Miller [1908 - ?]
Merton Henry Miller [1909 - 1995]
Arlo L. Miller [1913 - ?]
Together, Minnie & Willard had four known children:
Mildred A. (Shaver) Griest [1916 - 2009]
Lloyd Willard Shaver [1922 - 2007]

Verlin Eugene Shaver [1924 - living]