Dolores Ann "Dee" (Kennedy) Gosenca/Shaver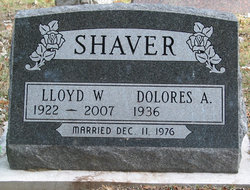 Above: Headstone of Lloyd & Dolores Shaver at Gresham Cemetery.

Dolores Ann "Dee" Kennedy was the daughter of Harry & Dolores Kennedy. She was born on February 12, 1936 in Kalamazoo, Kalamazoo County, Michigan, USA.

On December 11, 1976, she remarried
Lloyd Willard Shaver was the son of Willard Ervin & Minnie Mabel (Ranney) Shaver.

She passed away in her home on January 18, 2014 in Charlotte, Eaton County, Michigan.