Ada Lovista (Blodgett) Shaver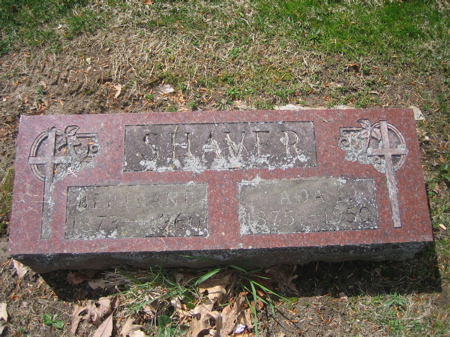 Headstone for Bertrand & Ada at Maple Hill Cemetery.

Ada Lovista Blodgett was the daughter of Anson Blodgett & Belinda A. (Sweet) Gray/Blodgett. She was born on July 30, 1875 in Wisconsin, USA.
On May 8, 1899, she married Bertrand Shaver, the fifth oldest child of Joseph Watson & Agnes Colista (Palmer) Shaver. They were tenants in Carmel Township, Eaton County, Michigan on Road No. 77; where they had two known children, three horses and three head of cattle.
Ada passed away on March 24, 1950. She was buried in Maple Hill Cemetery in Charlotte, Eaton County, Michigan. Bertrand was later buried next to her.


Together, Bertrand & Ada had two children:
Myrtle Inez (Shaver) Boughton [1900 - 1994]