Bertrand Cassius Shaver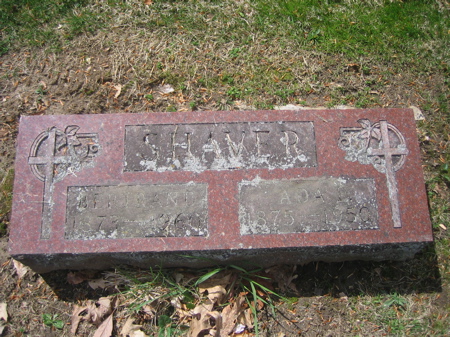 Headstone for Bertrand & Ada at Maple Hill Cemetery.

Bertrand Cassius "Bert" Shaver was the fifth oldest child of Joseph Watson & Agnes Colista (Palmer) Shaver. He was born on September 14, 1873 in Chester Township, Eaton County, Michigan, USA.

Per the 1880 U.S. Census (dated June 9, 1880), he was age 6 and lived with his parents in Chester Township.

On May 8, 1899, he married Ada Lovista Blodgett, daughter of Anson Blodgett & Belinda A. (Sweet) Gray/Blodgett. They were tenants in Carmel Township, Road No. 77; where they had two known children, three horses and three head of cattle.

Per the 1900 U.S. Census (dated June 15, 1900), he was 26 and living with Ada and their daughter, Myrtle. His widowed mother-in-law also lived with them. He was occupied as a farmer.

Per the 1910 U.S. Census (dated April 19/20, 1910), Bert and Ada lived with their two daughters, Myrtle & Irma, in Carmel Township, Eaton County. He was occupied as a farmer.
On September 12, 1918, he registered for the WWI draft in Charlotte, Eaton County.
In January 1920, per the U.S. Census for that year, Bert, Ada & Irma were living in Carmel Township where Bert was still occupied as a farmer.
Per the 1930 U.S. Census (dated April 2, 1930), Bert & Ada lived in Chester Township. Bert was employed as an insurance agent for "Wind & Hail Insurance Company". However, on the U.S. Census of 1940 (dated April 26, 1940), he was listed as a farmer, so this may have been written on the wrong census line.

After the death of his first wife, Ada, on March 24, 1950, he moved to Florida. There, he met and married his second wife, Fairybelle Kennedy, daughter of Henry Fulton & Barbara Catherine (Miller) Kennedy, in 1955. He was Fairybelle's third husband.
He passed away on February 3, 1960, at the age of 86, in Manatee, Manatee County, Florida. He and Ada are buried next to each other at Maple Hill Cemetery in Charlotte (Plot JSB-263).
Together, Bertrand & Ada had two children:
Myrtle Inez (Shaver) Boughton [1900 - 1994]