Mylo Leland Shaver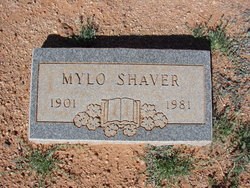 Headstone for Mylo Shaver.

Mylo Leland Shaver was the son of Melvin Burdett & Emma J. (Raymond) Shaver. He was born on August 19, 1901 in Charlotte, Eaton County, Michigan, USA.
Sometime after 1930, he married a woman named Dorlis.
He and Dorlis ran a concession stand at the Eaton County Fairgrounds in Charlotte selling soda/pop and candy. Information from family sources indicate that both Mylo and Dorlis were blind.

Mylo passed away in July 1981, at the age of 79, in Tombstone, Cochise County, Arizona. He and his wife, Dorlis, are buried next to each other at Cochise Memory Garden Cemetery in Sierra Vista, Cochise County.


*Note: Specific information may not be listed for living persons for the privacy of these individuals.