Irma Lucille (Shaver) Parker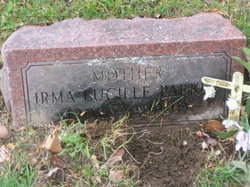 Headstone at Maple Hill Cemetery
Irma Lucille Shaver was the daughter of Bertrand Cassius & Ada Lovista (Blodgett) Shaver. She was born on October 23, 1907 in Michigan, USA.

On October 28, 1925 (age 18), she married Thomas Edwin Eugene Parker, son of Erwin Eugene & Mary Ellen (Garvin) Parker.

Irma passed away on June 6, 1940, at the age of 32. She is buried at Maple Hill Cemetery in Charlotte, Eaton County, Michigan.
Together, Irma and Erwin had one known child:
Donald Parker [1928 - ?]