Francis Emery Shaver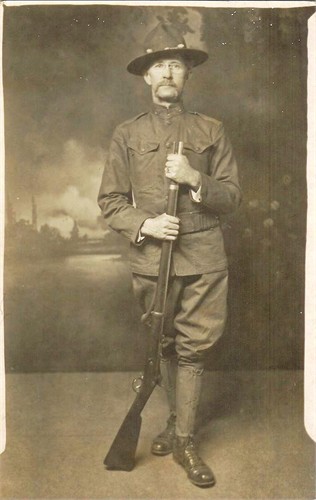 Corporal Francis Emery Shaver. Age 54.

Francis Emery Shaver was the oldest child of Joseph Watson & Agnes Colista (Palmer) Shaver. He was born in January 21, 1864 in Ohio, USA.

On March 26, 1890, he married Lillian M. Boughton, daughter of Miles & Emma Jane (Baker) Boughton in Hastings, Barry County, Michigan, USA. Lillian died on April 3, 1895 in Hastings, leaving him a widow.
He married Emma L. (Bunting) Hunt around 1903. Emma had two known children by her first husband, Henry H. Hunt: Clifford W. Hunt & Harry Edward Hunt, both of whom moved are listed in their household on the 1910 U.S. Census in Beaumont, Riverside County, California. It is assumed since Emma's sons were both born in Michigan, that the couple married before the relocation to California.
Francis was the Acting Corporal of Company B in the California Home Guard in 1918, at the age of 54.
Francis passed away in October 1932, at the age of 68, in Stuben County, Indiana.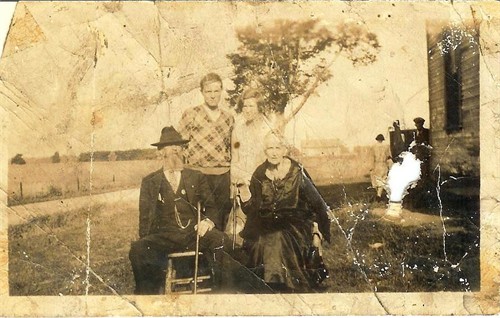 Four Generational Photograph. July 5, 1930 in Nevada Mills, Steuben County, Indiana.
In front: Francis E. Shaver and his mother, Agnes Colista (Palmer) Shaver.
In back: Harry(?) Hourigan and his mother, Agnes Emma (Shaver) Hourigan.
Together, Francis & Lillian had two known children:

Agnes Emma (Shaver) Hunt/Hourigan/Allen [1891 - 1982]
Maude Bell (Shaver) Forrester/Wren [1893 - 1992]