Clyde William Johnston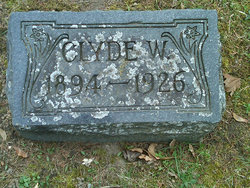 Clyde W. Johnston headstone at Rosehill Cemetery.


Clyde William Johnston was the son of William & Mary Rovella (Shaver) Johnston. He was born on January 20, 1894 in Owosso, Shiawasse County, Michigan, USA.
On June 5, 1917, Clyde and his brothers (George W. & Edson W. Johnston) registered in the WWI Draft. Clyde, 23 at the time, was unmarried and lived at 735 West Seminary Street in Charlotte, Eaton County, Michigan. His physical appearance was noted as being "medium height; slender; light blue eyes; light hair"
At the time of his draft registration, Clyde was a Spinner at Woolen Mills (incorporated as Eaton Rapids Woolen Mills in 1918 and then as the Horner Woolen Mills Company in 1937) located in Eaton Rapids. This was a very common profession and place of employment in Eaton Rapids during this period.

On January 17, 1920, his name appeared on the 1920 U.S. Census as a border at the home of his elder brother, George, at 312 1/2 Center Road in Eaton Rapids. He appears to have still been an employee at Eaton Rapids Woolen Mills.
On January 31, 1920, Clyde married Dolly Edna Gilmore, daughter of George Burton & Pearl Mae (Shirts) Gillmore. Their marriage records indicate Dolly was a "spinner" and Clyde was a "mill worker". The two most likely met at Eaton Rapids Woolen Mills.

He passed away on January 27, 1926 in Eaton Rapids, Eaton County. Unverified sources indicate that his death may have been from an accident while hunting. Clyde is buried in Rose Hill Cemetery located in Eaton Rapids.

After his death, Dolly remarried to Duane E. Torrence.

Clyde & Dolly had three known children:
Darrel E. Johnston [1920 - 1994]
Carole O. (Johnston) Lett [1922 - 1991]
Vance Clyde Johnston [1925 - 1977]