Vance Clyde Johnston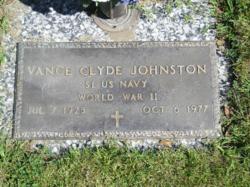 Vance Clyde Johnston Headstone located at Chapel Hill Memorial Gardens.

Vance Clyde Johnston was the son of Clyde William & Dolly Edna (Gilmore) Johnston. He was born on July 7, 1925 in Michigan, USA.
Vance served as a Seaman in the U.S. Navy during World War II.
On October 6, 1977, Vance passed away, at the age of 52, in Battle Creek, Calhoun County, Michigan. He is buried at Chapel Hill Memorial Gardens in De Witt, Clinton County, Michigan.