Carole O. (Johnston) Raines/Lett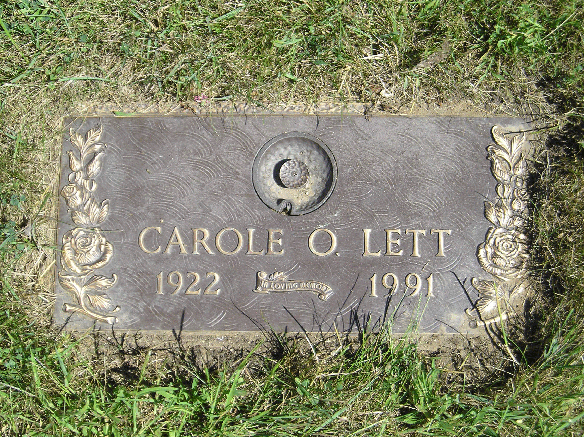 Carole O. Lett Headstone located at Chapel Hill Memorial Gardens.

Carole O. Johnston was the daughter of Clyde William & Dolly Edna (Gilmore) Johnston. She was born on November 13, 1922 in Michigan, USA.
Per the 1930 U.S. Census (dated April 19, 1930), Carole was 7 and living in Lansing, Ingham County, Michigan with her mother and step-father. Their address was 321 North Francis Avenue.
Per the 1940 U.S. Census (dated April 10, 1940) she was living with her family at the same address.

She married Jack Theil Raines, son of Charles Joseph & Enomia Grace (Wylie) Raines, sometime around 1942. They divorced sometime before 1955.

Carole married Allen Max Lett on March 5, 1955. Allen was the son of Ralph & Mary Margaret (Shaver) Lett.
On October 13, 1991, Carole passed away, at the age of 68, in Eaton County, Michigan. She is buried at Chapel Hill Memorial Gardens in De Witt, Clinton County, Michigan.
Carole & Allen had one known child:

Bradford Allen Lett [1955 - 1984]