Jack Thiel Raines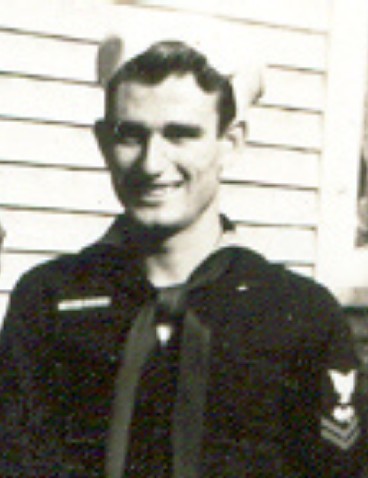 S2C Jack Thiel Raines, USN. Circa 1942.

Carole O. Johnston was the son of Charles Joseph & Enomia Grace (Wylie) Raines. He was born on June 4, 1924 (alternate year: 1922) in Charlotte, Eaton County, Michigan, USA.
Per the 1930 U.S. Census (dated April 12, 1930), he was age 5 and living with his parents at 521 Jefferson in Charlotte.

He married Carole O. Johnston, daughter of Clyde William & Dolly Edna (Gilmore) Johnston, around 1942. They divorced sometime before 1955.
On January 6, 1942, Jack enlisted in the U.S. Navy. He was recieved on board the U.S.S. PC-559 on May 22, 1942 as a Seaman 2nd Class (S2c). The PC-559 was a PC-461-class submarine chaser.

During World War II, the PC-559 served mostly in Italy. His crew served on following operations: Tunisian operations, Convoy TAG 18, Sicilian occupation, Salerno landings, and West Coast of Italy operations. The PC-559 was scheduled to be decommissioned and sold to France; so, Jack and many of its crew were reassigned.
On August 19, 1943, he joined them on board his new ship, the U.S.S. Leonard Wood (APA-12), at Norfolk Naval Base in Norfolk, Virginia. The ship served in the Pacific Theatre for the remainder of the war. His rank on the APA-12 was notated as "SM1c". Jack was released from service on October 1, 1945.
On October 23, 1950, Jack reenlisted in the U.S. Navy and went on to serve in the Korean War. He was released from service on November 19, 1951.
From 1993 to 1999, he lived in Kalkaska, Kalkaska County, Michigan at 2169 Birchcrest Drive, N.E.
Jack passed away on Sunday, December 26, 1999 in Kalkaska. He was buried at Evergreen Cemetery on Thursday, December 30, 1999.