Rev. Clarence Joseph Shaver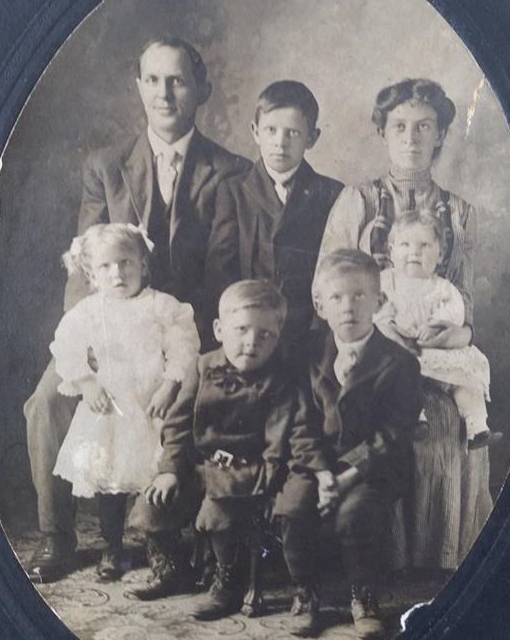 Back: Orville Clayton, Marcus Clifford, & Bessie Eva (Perry) Shaver; Front:
Glenna Gladys, Kenneth Levi, Clarence Joseph, & Edna Etta Shaver; About 1914.

Reverend Clarence Joseph Shaver was the second son of Orville Clayton & Bessie Eva (Perry) Shaver. He was born on May 14, 1907 in Charlotte, Eaton County, Michigan, USA.

On October 18, 1930 in Charlotte, he married Harriet E. Rauch. She was the daughter of Frank E. & Clara E. (Kirk) Rauch. They divorced sometime prior to his second marriage.

In 1939, he married Lola Belle (Richardson) Craun. She was the daughter of Joshua & Emily Cornelia (Harris) Richardson. Lola died in 1981.

He was then married to Ethel M. King from around 1981 until her death on March 17, 1993.
He served in the Army National Guard's 119th Field Artillery and was a pastor in churches in Michigan (including Charlotte, Lansing & Coldwater), Indiana and Ohio. During his time as a pastor, Clarence married many members of the family, including his great-nephew, Robert Jay Odette (1979, Ceresco Baptist Church).
He was employed at Aluminum Extrusions in Charlotte for several years until his retirement. Following retirement, he purchased the Morrel Country Stove north of Charlotte, operating it until the 1970s. He was active in the Charlotte Area Senior Citizens organizations, for which he received the Governor's Award in 1981 for Outstanding Service. He was also a life member of the 119th FA Veterans' Association in Lansing.

Clarence died on January 31, 1998, at the age of 90 in Marshall, Calhoun County, Michigan. Funeral services were held on February 3, 1998 at the Pray Funeral Home in Charlotte, with the Rev. Richard (Rich) Mitterling officiating. Interment was in the Mason Cemetery, Coldwater, Branch County, Michigan.