Arthur Adelbert Shaver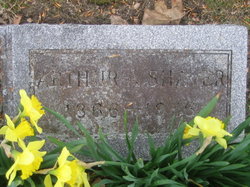 Headstone for Arthur at Maple Hill Cemetery (Plot JSB-236).

Arthur Adelbert Shaver was the second oldest child of Joseph Watson & Agnes Colista (Palmer) Shaver. He was born on February 22, 1868 in Chester Township, Eaton County, Michigan, USA.
On March 27, 1890, he married Ida May Kellogg in Eaton County. Ida was the daughter of John B. & Amelia M. (Clark) Kellogg.
Arthur held a variety of different jobs over his life, including being a farmer (1890 & 1900), laborer (1910), Dray Line service truck driver (1920) and school janitor (1930).
Per the 1940 U.S. Census (dated April 10, 1940), he was widowed (age 72) and living with his son-in-law and daughter, Floyd Evert & Jessie May (Shaver) Keith at their home on 307 Prairie Street in Charlotte, Eaton County.

He passed away on July 26, 1946, at the age of 78. He is buried next to Ida at Maple Hill Cemetery in Charlotte (Plots JSB-236 and JSB-237).
Together, Arthur & Ida had two known children:
Bessie Marie (Shaver) McPhee [1893 - 1971]