Hazel Glycene (Shaver) Navarre/Lasky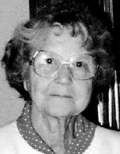 Hazel Glycene Shaver was the sixth child of Orville Clayton & Bessie Eva (Perry) Shaver.

She was born on January 25, 1917 in Michigan, USA.

Hazel married Clarence John Navarre on August 4, 1934. Clarence was the son of James & Florence (Morrow) Navarre. They divorced.

She married Ernest John "Pat" Lasky, son of Walter Valentine & Anna V. (Billings) Lasky. Pat died on December 25, 1987 in Mio, Oscoda County, Michigan. He was buried by his parents at Hillcrest Memorial Park in Jackson, Jackson County, Michigan.

Hazel passed away (at the age of 94) on Friday, May 6, 2011 under the loving care of the staff at RidgeCrest Heath Campus located in Jackson. Services were held on Wednesday, May 11, 2011 at Desnoyer Funeral Home. Interment followed at Hillcrest Memorial Park in Jackson.


Hazel and Clarence had one known child:


Clarence Lee Navarre [living]
*Note: Specific birth dates are not listed for living persons for the privacy of these individuals.