Willard Ervin Shaver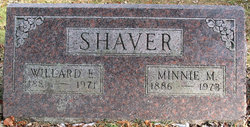 Headstone of Willard & Minnie Shaver.



Willard Ervin Shaver was the second-to-youngest child of Joseph Watson & Agnes Colista (Palmer) Shaver. He was born on February 28, 1881 in Chester Township, Eaton County, Michigan, USA. He worked on the family farm (owned by his father) up until at least 1900.

On November 1, 1905, in Gersham, Eaton County, he married Della J. Miller, daughter of Henry J. & Clara (Harper) Miller.

On September 27, 1917, he married his former sister-in-law, Minnie M. (Ranney) Miller, daughter of Romain M. & Mary E. (Howe) Ranney in Eaton County. Minnie's first husband, Arthur L. Miller, was Della's older brother.

Willard passed away on June 3, 1971 at the age of 90. He is buried next to Minnie at Gresham Cemetery in Vermontville, Eaton County.

Together, Willard & Della had two known children:
Ruby (Shaver) Clark [1911 - ?]

Together, Willard & Minnie had four known children:
Mildred A. (Shaver) Griest [1916 - 2009]
Lloyd Willard Shaver [1922 - 2007]

Verlin E. Shaver [1924 - living]