Vernon Duane Boyles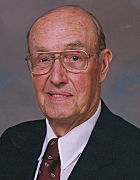 Vernon D. Boyles

Vernon Duane Boyles was the son of Albert Myrlin & Bethel Mae (Rogers) Boyles. He was born on March 1, 1921 in Vermontville, Eaton County, Michigan, USA. Although he was born in Michigan, his SSN (460-20-6752) was issued in the state of Texas.
Per the 1930 U.S. Census (dated April 25, 1930), he was 9 years old and living with his parents in Chester, Eaton County.
Per the 1940 U.S. Census (dated April 3, 1930), he was 19 and living with his parents on the farm still. Although no occupation is listed, it is assumed he was a farm laborer for his father.
He married Mildred LaMoyne Tellas, daughter of William and Allie (Thackery) Tellas. They were divorced.

He married Elva Leigh Trimble, daughter of Clayton Albert & Vivian Lilliam Trimble, on April 30, 1977 in Carlotte.
During his life, Albert was a farmer and had been active in various organizations such as: Farm Bureau Co-op Elevator, Eaton County Zoning & Planning Commission, Eagles Aerie 3552, Thornapple Grand Soil District Director and Eaton County Allocation Board. He was a member of the Lawrence Avenue Methodist Church and was the Carmel Township Supervisor for 9 years.
He passed away on May 27, 2010 at the age of 89. Obituary. He was interned at Maple Hill Cemetery on May 30, 2010.
Vernon & Mildred had two known children:
Judith Mae (Boyles) Walters [living]
JoAnne (Boyles) Fogle [living]
*Note: Specific information may not be listed for living persons for the privacy of these individuals.