Merlin Palmer Shaver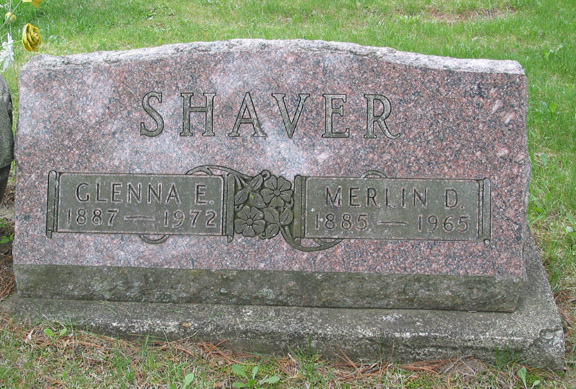 Headstone of Glenna E. & Merlin D. Shaver in Gresham Cemetery.

Merlin Palmer Shaver was the second-to-youngest child of Joseph Watson & Agnes Colista (Palmer) Shaver. He was born on April 29, 1885 in Chester Township, Eaton County, Michigan, USA.

He married Glenna Elsie Waite, daughter of Adelbert & Mary J. (McGormley) Waite on September 22, 1908 in Carmel Township, Eaton County. At the time of their marriage, he was a farmer and she was a school teacher.

Merlin was a self-employed Farmer. As of the Farm Journal Illustrated Rural Directory of Eaton County, Michigan (1916-1921), he owned 40 acres of land, 3 horses & 3 head of cattle in Carmel Township, and lived at "Rural Route 7 Charlotte; Carmel Township Road 65".

He passed away on August 1965, at the age of 80. He was buried at Gresham Cemetery in Vermontville, Eaton County. The headstone for Glenna and Merlin appears to be inaccurate, listing "D." as the middle initial for Merlin, instead of "P.". The records for this cemetery are unfortunately in shambles, mainly due to a fire that destroyed records in the 1940s.

Merlin & Glenna had one known child:
Arlene L. Shaver [1916 - ?]