J. Scott Greenawalt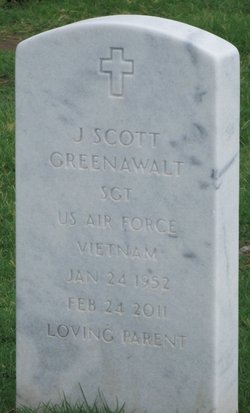 Headstone at Ft. Gibson National Cemtery


J. Scott Greenawalt was the son of Elton Joseph "Joe" & Violet N. (Forrester) Greenawalt. He was born on January 24, 1952 in Angola, Stuben County, Indiana, USA.
Scott served as a Sergeant (SGT) in the U.S. Air Force during Vietnam, from 1971 to 1976. Prior to his death, he worked as a Whirlpool Technician.

A former resident of Tahlequah, Cherokee County, Oklahoma, he passed away on February 24, 2011 in Jenks, Tulsa County, Oklahoma at the age of 59.
He was buried at Fort Gibson National Cemetery, located in Fort Gibson, Muskogee County, Oklahoma on March 1, 2011.

Scott had two known children:
Joseph Greenawalt [living]
Taleah (Greenawalt) Brewer [living]
*Note: Specific information may not listed for living persons for the privacy of these individuals.