Charles Edson Johnston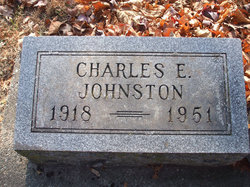 Headstone of Charles E. Johnston, located at Rose Hill Cemetery.

Charles Edson Johnston was the son of Edson W. & Ruth A. (Wells) Johnston. He was born in 1918 in Michigan, USA.
In 1930 (age 12), he was listed on the U.S. Census in Eaton Rapids, Eaton County, Michigan, under the household of his widowed grandfather, Charles H. Wells.
Charles passed away in Eaton Rapids on February 4, 1951. He was buried in Rose Hill Cemetery, also in Eaton Rapids.
Charles had one known child:
Ronald C. Johnston (1941 - 1962)