Irving L. Johnston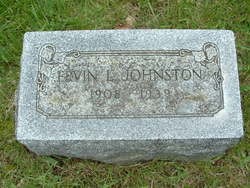 Ervin L. Johnston Headstone at Millerburg Cemetery.

Irving (or Ervin) L. Johnston was the son of William & Mary Rovella (Shaver) Johnston. He was born in 1908 in Eaton County, Michigan, USA.
He passed away in 1939, at the age of 31, in Eaton County. He is buried at Millerburg Cemetery in Carmel Township, Eaton County.