George W. Boyles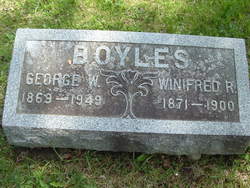 Headstone at Millerburg Cemetery
George W. Boyles was the son of Richard & Mary Jane (Hayden) Boyles. She was born on June 16, 1871 in Chester Township, Eaton County, Michigan, USA.
On March 26, 1893, in Carmel Township of Eaton County, he married Winifred Rosella "Winnie" Shaver. She was the youngest daughter of Joseph Watson & Agnes Colista (Palmer) Shaver.
Winnie passed away on June 11, 1900 in Carmel Township.
George remarried Elmira R. "Mira" Davis on May 14, 1904, with whom he had two children (Irvin W. & Marie Boyles). Mira had one child from her first marriage, Clifford S. Foster, who would be a step brother to Winnie & George's son.

George passed away on September 15, 1969. He & Winnie are buried next to each other at Millerburg Cemetery. Mira, who died in 1957, is buried nearby.

George & Winnie had one known child:
Albert Myrlin Boyles [1894 - 1984]
George & Mira had two known children:
Irvin W. Boyles [1907 - ?]
Marie E. (Boyles) Cook [1909 - 1951]