Betty Jane (Cone) LeClear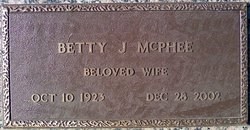 Headstone at Chapel Hill Memorial Gardens.
Betty Jane Cone was the daughter of Ernest Maynard & Marie M. (Etson) Cone. She was born on October 10, 1923 in Eaton County, Michigan, USA

Sometime around 1945, she married Richard A. McPhee. He was the son of Glenn Irving & Bessie Marie (Shaver) McPhee.
In 1949, they lived at 423 1/2 South Sycamore Street in Lansing, per the Lansing City Directory (LCD). From 1951 to 1956 (per the LCD), they lived at 616 Loa Street. In 1959 (per the LCD), they had moved to 533 West Holmes Road.
After Richard retired from Atlas Drop Forge (Dana Corp) in 1980, they moved to Phoenix, Maricopa County, Arizona. They lived in an apartment there at 3633 North 6th Avenue (1985-1989).
Betty passed away on December 28, 2002 in Holt, Ingham County, Michigan, USA.

Together, Richard and Betty had two known children:
Linda (McPhee) Langston [living]
Roger McPhee [living]