Ernestine Mildred (Raymond) Johnston/Conlin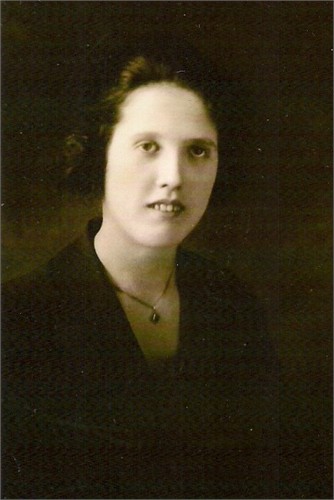 Ernestine
Ernestine Mildred Raymond was daughter of Ernest Charles & Bertha Livonia (Peterson) Raymond. She was born on March 25, 1899 in Eaton Rapids, Eaton County, Michigan, USA.
On June 19, 1917, Ernestine married George W. Johnston, son of William & Mary Rovella (Shaver) Johnston.
At the time of his marriage, Ernestine was a Factory Worker, most likely employed at Woolen Mill (where George was employed). This was a very common profession and place of employment in Eaton Rapids during this period.
On the 1920 U.S. Census, she and George were living in Eaton Rapids, Eaton County (with no children). They divorced around 1921.
In St. Joseph, Berrien County, Michigan, on May 4, 1922, she married James Evarts Conlin, son of James & Rose (Mann) Conlin.
As of 1924, the lived in Lansing at 224 S. Sycamore.

On the 1930 U.S. Census (dated April 4, 1930), James & E. Mildred were living in Eaton Rapids, Eaton County. They had three children at that time.

It is unknown when she passed away.
Ernestine & James had 3 known children:
Henry D. Conlin [1925 - 1993]
Earnest C. Conlin [1927 - 2010]
Margaret L. Conlin [1929 - ?]