Roger Conant

~Founder of Salem, Massachusetts~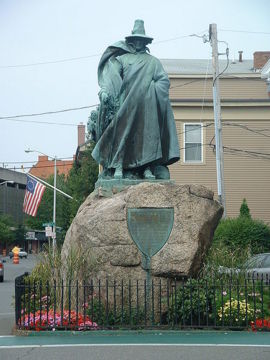 Roger Conant was born on April 9, 1592 in East Budleigh, Devon County, England to Richard & Agnes (Clark) Conant.
On November 11, 1618, he married Sarah Horton at St. Ann Blackfriars in England. The two had nine or ten children, including: Sarah (died in infancy), Caleb, Lot, Sarah, Joshua, Mary, Elizabeth, and Exercise (and possibly John).
Conant and his family arrived at Plymouth Colony (from London) in 1623 (Age: 31), where he became associated with Puritan opposition.
In 1626, Roger led a group of immigrants came from Cape Ann, where they established a home in a Native-American settlement named Naumkeag, which was later renamed Salem.He was chosen as the first governor of Salem in 1626. He held the title for two years.
Conant was granted 200 acres of land by the Massachusetts Bay Company.
He died in Beverly, Massachusetts on November 19, 1679. He was buried in Salem.
How Are We Related?
Descendants of Joseph Watson & Agnes Colista (Palmer) Shaver are directly connected to Roger Conant through Agnes Colista (Palmer) Shaver. Roger was her 7th great-grandfather through her paternal grandfather, Thomas Palmer. See the pedigree tree below for more information.
Pedigree Tree leading back to Roger Conant:
Agnes Colista Palmer [1845 1931]
->Cassius Palmer [1820 - 1908] m. Ruby Rosette Turner (parents)
-->Thomas Palmer [1779 - 1860] m. Sarah Ball (grandparents)
--->Susanna Cobb [1756 - 1840] m. Zurishaddai Palmer (great-grandparents)
---->Nathan Cobb [1728 - 1818] m. Abijan Tinkham (2nd great-grandparents)
----->Mary Conant [1703 - 1795] m. Melvinn Cobb (3rd great-grandparents)
------>Josiah Conant [1681 - ?] m. Elizabeth Washburn (4th great-grandparents)
------->Nathaniel Conant [1650 - 1732] m. Hannah Mansfield (5th great-grandparents)
-------->Lot Conant [1624 - 1674] m. Elizabeth Walton (6th great-grandparents)
--------->Roger Conant [1592 - 1679] m. Sarah Horton (7th great-grandparents)

Please note that dates are approximate.
Please remember that this site is a work in progress and is in the process of being built. Thank you.