George Soule
~Passenger on The Mayflower & Signer of the Mayflower Compact~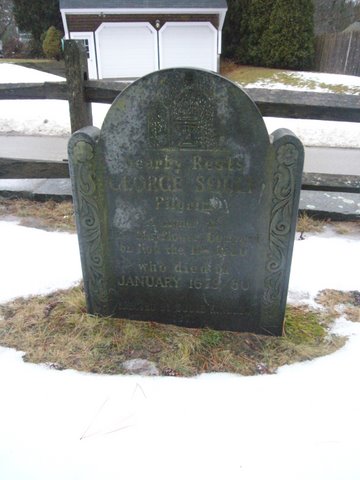 Stone at Miles Standish Burial Ground

George Soule was born about 1595 in England.
An English/Leiden Separatist, better known as Pilgrim, he became one of the 102 passengers on the historic ship, the Mayflower in 1620. He came on the Mayflower as a servant to the Edward Winslow family, indicating he was under 25 years old at the time; however, he did sign the Mayflower Compact on November 11, 1620, suggesting he was over 21.
In the 1623 Plymouth division of lands, Soule received 1-acre (4,000 m2) as a passenger on the Mayflower.
About 1626, Soule married a woman named Mary (likely Mary Buckett), and they had nine children: Zacariah, John, Nathaniel, George, Susanna West, Mary, Elizabeth, Patience, and Benjamin.

In 1637, Soule volunteered to serve during the Pequot War.

He moved to Duxbury, Plymouth County, Massachusetts sometime before 1642 and became a prominent landowner there. He served as a deputy (representative) for Duxbury to the Plymouth General Court.
George Soule made out his will on August 11, 1677, and added a codicil to it on September 20, 1677. The codicil is quite interesting as it gives a little insight into a family squabble between son John and daughter Patience:
"If my son John Soule above-named or his heirs or assigns or any of them shall at any time disturb my daughter Patience or her heirs or assigns or any of them in peaceable possession or enjoyment of the lands I have given her at Nemasket alias Middleboro and recover the same from her or her heirs or assigns or any of them; that then my gift to my son John Soule shall be void; and that then my will is my daughter Patience shall have all my lands at Duxbury and she shall be my sole executrix of this my last will and testament and enter into my housing lands and meadows at Duxbury."
Soule died in 1680, leaving a sizable estate. He was likely buried in Miles Standish Burial Ground
where a stone was later erected in his memory.
How Are We Related?
Descendants of Joseph Watson & Agnes Colista (Palmer) Shaver are directly connected to George Soule through Agnes Colista (Palmer) Shaver. George was her 6th great-grandfather through her paternal grandfather, Thomas Palmer. See the pedigree tree below for more information.
Pedigree Tree leading back to George Soule:
Agnes Colista Palmer [1845 1931]
->Cassius Palmer [1820 - 1908] m. Ruby Rosette Turner (parents)
-->Thomas Palmer [1779 - 1860] m. Sarah Ball (grandparents)
--->Susanna Cobb [1756 - 1840] m. Zurishaddai Palmer (great-grandparents)
---->Nathan Cobb [1728 - 1818] m. Abijan Tinkham (2nd great-grandparents)
----->John Cobb [1689 - 1750] m. Mary Conant (3rd great-grandparents)
------>Rachel Soule [1663 - 1727] m. John Cobb (4th great-grandparents)
------->John Soule [1635 - 1707] m. Rebecca Simmons(5th great-grandparents)
-------->George Soule [1595 - 1680] m. Mary Buckett(6th great-grandparents)
Please note that dates are approximate.
Please remember that this site is a work in progress and is in the process of being built. Thank you.