Ruby Rosette (Turner) Palmer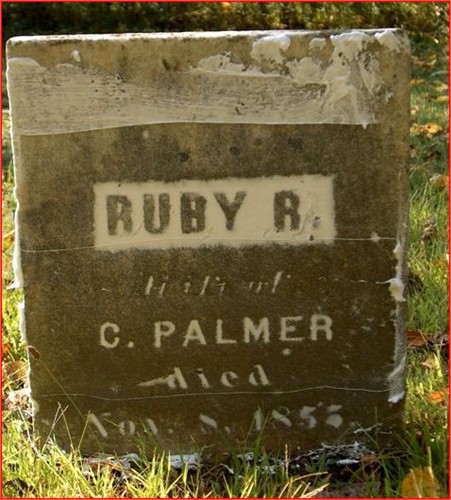 Ruby R. Turner Headstone at Hubler Cemetery

Ruby Rosette Turner was the child of Joseph & Nancy (White) Turner. She was born on September 27, 1824 in Craftsbury, Orleans County, Vermont, USA.
On January 26, 1845, she married Cassius Palmer, son of Thomas & Sarah (Ball) Palmer, in Pittsfield, Lorain County, Ohio, USA.
Ruby died on November 8, 1855 in Sullivan, Ashland County, Ohio. She was buried at Hubler Cemetery in Sullivan.

Children
Agnes Colista (Palmer) Shaver [1845 - 1931]
Lucy Almira Palmer [1847 - 1900]
Ruby Rosette (Palmer) Mason [1853 - 1931]