Elton Joseph "Joe" Greenawalt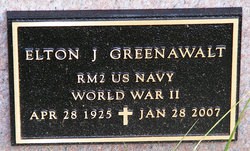 Plate on Back of Headstone at Ray Cemetery.


Elton Joseph "Joe" Greenawalt was the son of Eyman B. and Beulah Belle (Gary).

He was born on April 28, 1925 in Steuben County, Indiana, USA.
Per the 1930 U.S. Census, dated April 21, 1930, he was 4 and living with his parents and older sister, June A. Greenawalt, in Fremont, Steuben County.
He graduated from Fremont High School.

He enlisted in the WWII Draft and served as a Radio Man Second-Class (RM2) in the U.S. Navy. After WWII, Joe also served in the Navy during the Korean War.

He married Violet N. Forrester on December 31, 1950. She was the daughter of Ellsworth David & Maude B. (Shaver) Forrester.
Joe was retired from Dana-Weatherhead in Angola, where he had worked as a set-up man. He was a member of the Fremont American Legion Cassel Post No. 257. He also attended Nevada Mills United Methodist Church. His hobbies included fishing, hunting, and other outdoor activities.
They lived at 3765 West Nevada Mills Road in Fremont, Steuben County (from at least 1992 to 2001, if not longer).

Joe died on Sunday, January 28, 2007 At Northern Lakes Nursing and Rehabilitation Center in Angola, Steuben County. Funeral services were held on Friday, February 2, 2007 at Beams Funeral Home in Fremont with Rev. Duane Stidham officiating. He was buried at Ray Cemetery (a.k.a. Covenanter Cemetery) next to Violet.
Joe & Violet had five known children:
Robin (Greenawalt) Seiler [living]
Jill (Greenawalt) Collins [living]
David Greenawalt [living]
J. Scott Greenawalt [1952 - 2011]
Kevin Joseph Greenawalt [1960 - living]
*Note: Specific information may not listed for living persons for the privacy of these individuals.