Fairybelle (Kennedy) Lemons/Firmin/Shaver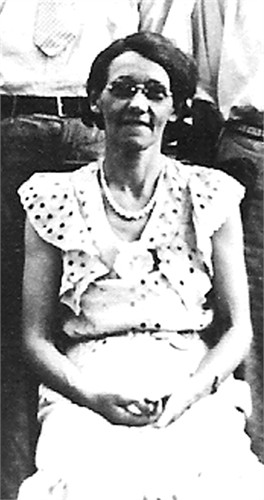 Fairybelle (age 57), 1938 in West Virginia.

Fairybelle (also spelled Ferrybell) Kennedy was the daughter of Henry Fulton & Barbara Catherine (Miller) Kennedy. She was born on April 26, 1881 in Alderson, Monroe County, West Virginia, USA.
Per the 1900 U.S. Census, she lived with her parents & siblings on her father's farmstead in Wolf Creek, Monroe County, West Virginia.

On June 11, 1902 (age 21) in Union City, Monroe County, West Virginia, she married Moses Taylor Lemons, son of James A. & Leah (Hedrick) Lemons.
Per the 1910 U.S. Census, dated May 1910, Moses and Fairybelle lived in Olio Township, Woodford County, Illinois with their son, Emory.

The family moved southwest to Deer Creek, Tazewell County, Illinois, where they resided on January 14, 1920 (per the U.S. Census Records).
Moses passed away sometime in early1930 and was buried at Mount Zion Cemetery in Deer Creek, Tazewell County. His headstone indicates that she is possibly buried next to him.
Per the 1930 U.S. Census (dated April 10, 1930), she resided with her son "Moses Emory Lemons" in Deer Creek. He was the proprietor of an electrical store.

She married Herbert E. Firmin on September 1, 1937 in Wabash, Wabash County, Indiana.
They relocated to Claremont, Lake County, Florida; where Herbert passed away in 1949. Herbert was buried next to his first wife, Laura P. (Meredith) Firmin in Danvers, McLean County, Illinois.
On March 24, 1950, she married Bertrand Cassius Shaver, son of Joseph Watson & Agnes Colista (Palmer) Shaver. He passed away on February 3, 1960, at the age of 86, in Manatee, Manatee County, Florida. He was buried next to his first wife, Ada Lovista (Blodgett) Shaver at Maple Hill Maple Hill Cemetery in Charlotte, Eaton County, Michigan.
Fairybelle passed away on January 25, 1978 in Saint Petersburg, Pinellas County, Florida.

Fairybelle & Moses had three known children:
Eldridge Fulton Lemons [1903 - 1903]
Emory Young Lemons [1904 - 1950]
Anna Blanche Lemons [1910 - 1914]