Roger Conant
~Founder and First Governor of Salem, Massachusetts~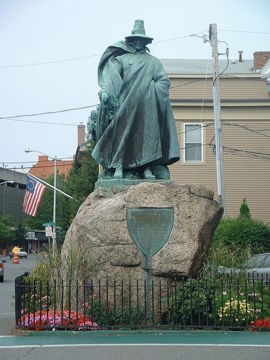 Statue of Roger Conant in Salem, Mass.
Roger Conant was the youngest, and eighth, child of Richard Conant. According to records, he was baptized in East Budleigh, Devon, England in 1592.
In 1623, he immigrated to Plymouth Colony in Massachusetts, USA with his wife, Sarah, and son, Caleb. However, he was uncomfortable with the strict Pilgrim society in Plymouth and moved his family to Nantasket in 1624.

In the late autumn of 1625, Conant was invited by the Rev. John White and other members of the Dorchester Company to move to their fishing settlement on Cape Ann as their governor.
He led a group of people to Naumkeag, now Salem, in 1626, and continued as their governor. In 1627 a patent was solicited from England and it was obtained by a group led by John Endicott who arrived in Naumkeag in 1628. Endicott and the other settlers of the New England Company now owned the rights to Naumkeag. Fortunately for the peaceful continuity of the settlement, Conant remained in Salem and, despite what must have been a disappointment for him, acceded to Endicott's authority as the new governor.
Conant built the first Salem house on what is Essex Street today, almost opposite the Town Market. In 1639, his was one of the signatures on the building contract for enlarging the meeting house in Town House Square for the First Church in Salem. This document remains part of the town records at City Hall. He was active in the affairs of the town throughout his life.
In 1679, he died at the age of 87.
The dramatic, cloaked statue of Roger Conant faces the Salem Common and stands atop a huge boulder brought from the woods near the floating bridge at Lynn. Artist Henry H. Kitson designed this heroic bronze statue for the Conant Family Association and the statue was dedicated on June 17, 1913.
How Are We Related?
Descendants of Joseph Watson & Agnes Colista (Palmer) Shaver are directly connected to Roger Conant through Agnes Colista (Palmer) Shaver. Roger was her 7th great-grandfather through her paternal grandfather, Thomas Palmer. See the pedigree tree below for more information.


Pedigree Tree leading back to Roger Conant:
Agnes Colista Palmer [1845 1931]
->Cassius Palmer [1820 - 1908] m. Ruby Rosette Turner (parents)
-->Thomas Palmer [1779 - 1860] m. Sarah Ball (grandparents)
--->Susanna Cobb [1756 - 1840] m. Zurishaddai Palmer (great-grandparents)
---->Nathan Cobb [1728 - 1818] m. Abijan Tinkham (2nd great-grandparents)
----->Mary Conant [1707 - 1795] m. John Cobb (3rd great-grandparents)
------>Josiah Conant [1681 - ?] m. Elizabeth Washburn (4th great-grandparents)
------->Nathaniel Conant [1650 - 1732] m. Hannah Mansfield (5th great-grandparents)
-------->Lot Conant [1624 - 1674] m. Elizabeth Walton (6th great-grandparents)
--------->Roger Conant [1592 - 1679] m. Sarah Horton (7th great-grandparents)
Please note that dates are approximate.

Please remember that this site is a work in progress and is in the process of being built. Thank you.