Peregrine White
~First English Child Born to the Pilgrims in the New World~
Peregrine White was the first child born to the Pilgrims in the New World. His parents, William and Susanna (Fuller) White, had boarded the Mayflower with their young son Resolved. Susanna gave birth to Peregrine before the end of November (Old Style calendar), 1620 while the Mayflower was anchored in Provincetown Harbor.

William White died the first winter, Susanna White married fellow Mayflower passenger Edward Winslow. Edward adopted Resolved and Peregrine White and made them his heirs. In 1636, the family, now numbering 6 - Edward and Susanna White Winslow, Resolved and Peregrine White, and the two children born to Edward and Susanna, Josias and Elizabeth Winslow - moved to the new settlement of Marshfield, north of Plymouth.

Peregrine had his first military experience at age 16 and continued to serve in the militia, first as a lieutenant and then a captain. Like most of the settlers, Peregrine was a farmer. He also served his community as a representative to the General Court.
Peregrine married Sarah Basset on December 14, 1646. Sarah's parents, William and Elizabeth Bassett, had been members of the Leiden Separatist community. They arrived in Plymouth in 1621 in the Fortune. Sarah was born after their arrival in Plymouth, sometime before 1627. The Bassets had considerable land in Marshfield and Peregrine moved onto his in-laws land, buying several adjacent pieces of property as the years progressed. Peregrine and Sarah had 7 children.
At age 78, Peregrine officially joined the Marshfield church. He lived until July of 1704, dying at Marshfield aged 83.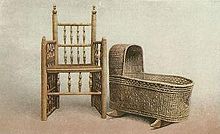 Peregrine White's cradle & Brewster Chair
How Are We Related?
Descendants of Joseph Watson & Agnes Colista (Palmer) Shaver are directly connected to Peregrine White through Agnes Colista (Palmer) Shaver. Peregrine was her 5th great-grandfather through her maternal grandmother, Nancy (White) Turner. See the pedigree tree below for more information.

Pedigree Tree leading back to Peregrine White:
Agnes Colista Palmer [1845 1931]
->Ruby Rosette Turner [1824 - 1855] m. Cassius Palmer (parents)
-->Nancy White [1786 - 1858] m. Joseph Turner (grandparents)
--->Daniel White [1743 - 1797] m. Margaret Bell (great-grandparents)
---->Daniel White [1716 - 1785] m. Abigail Turner (2nd great-grandparents)
----->Cornelius White [1682 - 1755] m. Hannah Randall (3rd great-grandparents)
------>Daniel White [1649 - 1724] m. Hannah Hunt (4th great-grandparents)
------->Peregrine White [1620 - 1704] m. Sarah Bassett (5th great-grandparents)

Please remember that this site is a work in progress and is in the process of being built. Thank you.