Richard A. Mcphee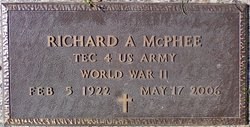 Headstone at Chapel Hill Memorial Gardens.
Richard A. McPhee was the son of Glenn Irving & Bessie Marie (Shaver) McPhee. He was born on February 5, 1922 in Lansing, Ingham County, Michigan, USA.
On October 20, 1942, he enlisted in the U.S. Army for WWII at Kalamazoo. He listed himself as single, with dependents on his record. He was a resident of Ingham County at the time.
After the war ended, he began working at Atlas Drop Forge (Dana Corp) as a die checker.

He married Betty Jane Cone, daughter of Ernest Maynard & Marie M. (Etson) Cone sometime around 1945.
In 1949, they lived at 423 1/2 South Sycamore Street in Lansing, per the Lansing City Directory (LCD).
From 1951 to 1956 (per the LCD), they lived at 616 Loa Street. He worked as a die sinker those years.
In 1959 (per the LCD), they had moved to 533 West Holmes Road.
He retired in 1980 from Atlas Drop Forge (Dana Corp) after 37 years of service before moving to Phoenix, Maricopa County, Arizona with his wife.

Richard was very fond of all animals, big and small. He was a very dear and loving husband, father, grandfather, great-grandfather and brother.
Richard died on Wednesday, May 17, 2006. He was last known to be living in Holt, Ingham County. Per his obituary:
He was preceded in death by his parents, wife, brother, Glenn McPhee, and sister, Jessie LaClear. Survivors include his daughter, Linda (Rondal) Langston; son, Roger (Sue)
McPhee; grandchildren, Renee (A.J.), Sunday, and Amber (Brad); great-grandchildren, Skylar and Ryan, Austin and Tori, Suanna and Ashley; and sister, Mary (Cliff) Fero.
Funeral services were held on Monday, May 22, 2006 at the Estes-Leadley Funeral Home, Holt/Delhi Chapel with the Rev. Stephen Weinberger officiating. Interment was held at Chapel Hill Memorial Gardens.
Together, Richard and Betty had two known children:
Linda (McPhee) Langston [living]
Roger McPhee [living]